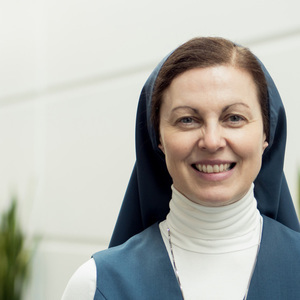 Sister Helena Burns
Special guest
Sr. Helena Burns, fsp, is a member of the Daughters of St. Paul, an international congregation of Roman Catholic Sisters founded to communicate God's Word through the media. She has an M.A. in Media Literacy Education; a B.A. in theology and philosophy from St. John's University, NYC; studied screenwriting at UCLA and Act One-Hollywood; and holds a Certificate in Pastoral Youth Ministry. Sr. Helena is also studying at the Theology of the Body Institute, PA. She is a movie reviewer for The Catholic Channel--Sirius XM. She wrote and directed a documentary on the life of Blessed James Alberione: www.TheMediaApostleFilm.com and is a co-producer on www.The40Film.com. She has written a Theology of the Body curriculum: www.tinyurl.com/TOBtraining and her daily book for young women is "Draw Near to Jesus" (formerly "He Speaks To You").
Sr. Helena gives Media Literacy & Theology of the Body workshops & courses (www.sacredheartcollege.ca) to youth & adults all over Canada and the U.S., and believes that media can be a primary tool for sharing God's love and salvation. (She is a dual citizen, Canada/USA: an international woman of mystery.)
Sister Helena Burns has been a guest on 1 episode.
Episode | March 11th, 2020 | 48 mins

abortion, birth control, california, career, catholic, character development, chastity, feminism, gender ideology, hope, marriage, prayer, pro-life, self improvement, sex, single life

Joining Trending with Timmerie is Sister Helena Burns. Together they discuss the Netflix show 'Love is Blind', dating, relationships, Theology of the Body, feminism, and prayer. Timmerie also discusses the Catholic vote and whether Catholic voters have been ignored by the democrat party.