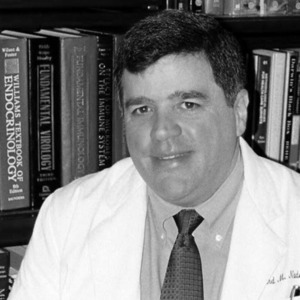 Dr. Gerard Nadal
Special guest
Dr. Gerard Nadal is a Molecular Microbiologist who currently serves as the President and CEO of the Coalition on Abortion/Breast Cancer.
Dr. Nadal holds a Bachelor of Arts degree in Psychology with a minor in Philosophy, from St. John's University, New York. He completed The Post-Baccalaureate Pre-Med Program at Columbia University in New York City prior to completing his Master of Science in Cellular and Molecular Biology, Master of Philosophy in Biology, and Ph.D. in Molecular Microbiology from Saint John's University, New York City. From there he did his post-doctoral fellowship in Microbial Physiology at York College of the City University of New York.
Dr. Nadal has taught Microbiology, Medical Microbiology, Immunology, Genetics, Anatomy and Physiology, Biochemistry, and Molecular Biology for sixteen years, both at Saint John's University, New York City and Manhattan College, Riverdale, New York as Visiting Professor of Biology.
A member of The American Society for Microbiology, The New York Academy of Sciences, associate member of the American Association of Pro-Life Obstetricians and Gynecologists, a member of University Faculty For Life,and the Catholic Writers Guild, science has become a second career for Dr. Nadal, after spending seven years working with homeless teens at Covenant House in Times Square, New York.
For the past 4 years Dr. Nadal has served as the president of the Coalition on Aborton Breast Cancer and is collaborating on an international research project on the deleterious effects of oral contraceptives, teaching part-time, and serving several other pro-life organizations.
Dr. Gerard Nadal has been a guest on 1 episode.
Episode | September 20th, 2019 | 48 mins 45 secs

abortion, academic guidance, california, career, catholic, christian, contraception, feminism, fertility & infertility, gender ideology, marriage, masculinity, pro-life, sacraments, same sex attraction, workplace

Molecular Microbiologist Dr. Gerard Nadal, President of the Coalition on Abortion/Breast Cancer, joins Trending with Timmerie. Dr. Nadal will explain how abortion and contraception cause breast cancer. They'll also discuss: Contraception's link to depression, anxiety, low libido, and decreased sexual pleasure. Sex differences present in every cell of a man and woman's body. Finally, you'll receive career and academic advice whether you're a college student or a seasoned professionals.